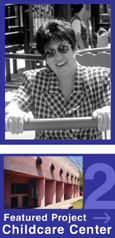 Dianne Philibosian, Ph.D.
Dr. Dianne Philibosian has had a thirty-year career as a professor and administrator in higher education. She currently serves as a Regent of the University of the Pacific, Stockton, California. She earned her M.S. and Ph.D. in Early Childhood Education from Southern Illinois University at Carbondale where she served as the Director of the Head Start Leadership Development Program for the south 62 counties of Illinois during the early seventies.


In addition to her academic experience, she is very active in the childcare community and serves as a Governor's appointee to the State of California Child Development Policy Advisory Committee and many other public and community service boards. She has been an active advocate for high quality childcare as she participates in the formulation of legislation and works closely with local elected officials. Dr. Philibosian is also frequently sought out as a speaker on the issue of organizational strategies for employer-supported childcare. She has developed childcare centers, established non-profit corporations, and has consulted throughout the U.S., Mexico, Japan and Guam in the area of childcare curriculum.

She is the co-author of
Removing Barriers to Child Care Development
as well a variety of articles and conference presentations for local, state, national and international organizations on a broad spectrum of topics from child care development to methods of using play, storytelling, and children's literature.